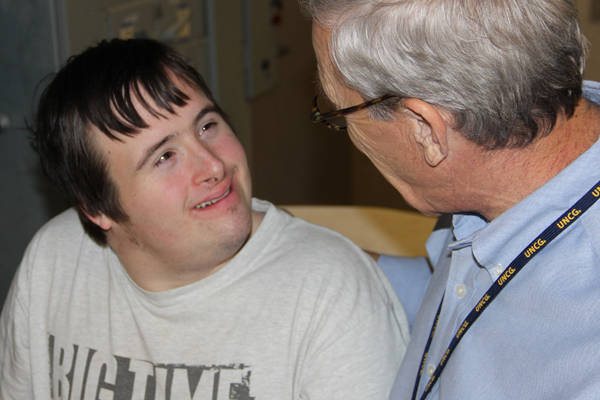 Thank You! Your tax-deductible contribution helps InReach provide services for over 1200 individuals and families each year. Your gift helps empower those we support to realize their goals, aspirations, and dreams are within reach.
Donations are never taken for granted at InReach. When we receive a gift of any size, we recognize our responsibility to manage the fund in the most prudent way possible and as the donor requested. We're grateful for every dollar entrusted to us.

Dream Maker Society
InReach's Dream Maker Society is currently comprised of 57 members that collectively provide $275,000 which goes directly into our programs. These individuals each provide a minimum of $1000 per year for each of five years. They are changing lives through philanthropic leadership focused on the building blocks for a better life: safe and affordable housing, employment, good health, in addition to social relationships and connections. To find out more about this opportunity, click the Learn More button.

For more information about donating to the Dream Maker Society contact Kathi Knier at 704-536-6661, ext. 418 or email at This email address is being protected from spambots. You need JavaScript enabled to view it..
Honor Someone Special
Gifts may be made in honor or memory of someone special in your life. An acknowledgment card will be sent to the designated person or family to notify them of your gift. Click the donate button for honorariums and memorials

Barrie L. Wiggins Memorial Fund
Named in honor of a true southern lady and lifelong friend of InReach, this fund provides emergency assistance such as rent, utilities, food and clothing to family caring for a loved one with a disability.

In-Kind Donations
Donations of specific items on our "wish list" are always welcome! Our requested items can be found at: www.smile.amazon.com. Remember to select InReach as your charity of choice before you make your purchases. Please note that by selecting InReach as your charity of choice on Amazon Smile, our organization will be provided a percentage of any purchase you make (including your Christmas shopping!).
Planned Giving
Nancy and Terry Young Legacy Society is a planned giving opportunity that will help sustain and enhance InReach's work in the future. Legacy gifts can be provided through a bequest in your estate, a charitable gift annuity, designating InReach as a beneficiary of a life insurance policy, or through the naming of InReach as a beneficiary of an IRA account. For more information, contact Kathi Knier at This email address is being protected from spambots. You need JavaScript enabled to view it. or 704.536.6661 ext. 418
United Way Donations
Designate your United Way donation to InReach. It's simple! Just indicate "InReach" as your nonprofit of choice. It's never too late to add or change your designation. A million thanks to those who already give.